SUMMER Special
7th Day is Free!
ONLY when you book DIRECT with us!
SmartPark® is a long term and short term valet parking lot that serves travelers at John F. Kennedy (JFK) International Airport 24 hours a day, 365 days a year. We are officially licensed by the New York City Department of Consumer Affairs and a certified vendor of the Port Authority of NY/NJ.
Attention Travelers – Please beware of parking operators that are unlicensed, uninsured and operating illegally at the airport. Be sure to verify their license status before booking or paying for a reservation. Be intelligent and park with confidence at SmartPark – a licensed, certified vendor!
Featured Video
Why Use Smartpark?
cost-effective, convenient, and safe
SmartPark is Easy! It's as Simple as:
Book Your Time
Book online or call us.
Drive to
SmartPark Lot
We honor a five-hour grace period.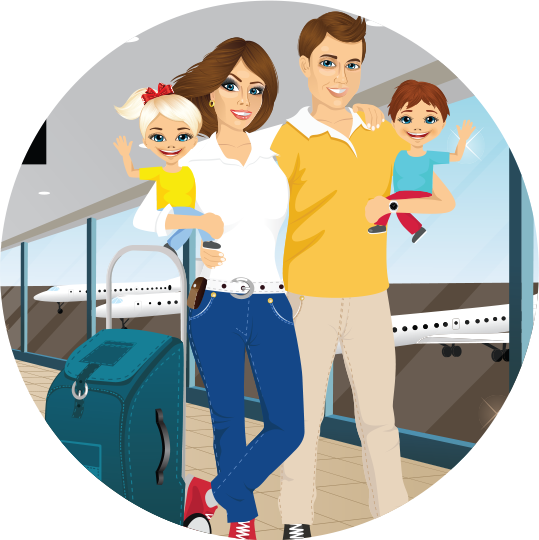 Shuttle to Terminal
We'll take you where you need to be.
The SmartPark Difference
FREE Online Parking Reservations
Reserve without added third-party fees by booking directly with SmartParkParking.com! You pay upon completion of your stay in our lot. We never require a credit card to reserve.
LOW Daily Rate w/ No Hidden Fees
JFK ($23.99) Daily Rate (plus 10.375% New York City Parking Tax & 6.625% Airport Use Recovery Fee). Other lots and third party providers charge hidden fees – so beware!
FREE 7th Day + Earn Rewards
Every 7th day at SmartPark is always free – but only when you book direct with us! Reward members also earn automatic points for a free day (one day = one point).
Five-Hour Grace Period for Travel Changes
We honor a five-hour grace period based on your actual check-in and departure times from our lot when you book direct with us! – not based on travel reservation dates and times.
Superior Guest Service
We consider every traveler to be our guest and treats each vehicle as if it were our own. We're ready to assist from the time you pull into our lot until we unload your luggage at the terminal.
Rapid Shuttle Transport
No long waits for pick-up and drop-off with on-demand service. Travel smarter and in comfort aboard the newest fleet of shuttle vans at JFK!
Cutting-Edge Technology
Our shuttle van tracking system provides real-time pick up information for our guests through Silent Passenger® – the most advanced fleet vehicle tracking technology available.
State of Art Security
Our secure lots use the latest digital web-based surveillance technology. Your vehicle never leaves the fenced parking area without your signed permission. Be confident with SmartPark!