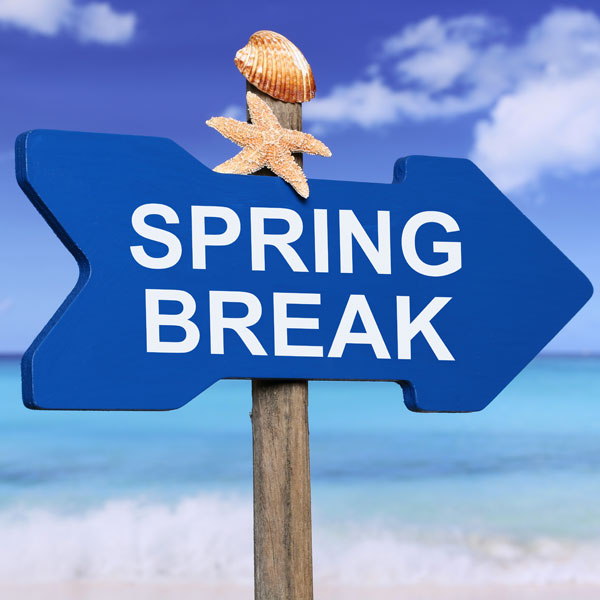 Even if you're not a teen or 20-something anymore, you can still enjoy Spring Break like it's nobody's business! It's one of the busiest travel times of the year as us Northerners look to escape the frigid temps in favor of sun-drenched tropical beaches.
At SmartPark, we'll hang back and take care of your vehicle while you go enjoy the sun. Maybe just send us a postcard or bring us a souvenir, so we don't feel so left out, ok?
In honor of Spring Break, here are some handy travel tips for a safe and secure excursion.
Keep the Social on the Down-Low
Be smart all year long with this. Post those pretty pictures when you get home. You never know who may see your travel pics on social media while you're away. Don't invite potential thieves to target your home or car while you're gone. Leave some lights on a timer and alert a neighbor to keep an eye out and pick up your paper and mail to not arouse suspicion.
Give Your Credit Card Provider a Heads Up
A quick call to your credit card company is helpful to alert them of coming charges and avoid your legit charges from being declined when you use the card. Fraud protection is in your best interests, but unusual activity may raise a flag. While credit cards are a convenience, watch out for fees for overseas travel. Mobile apps for your card come in handy to track expenses.
Rental Car Coverage May Not Be Necessary
If you're planning to rent a car, you may already be covered under your auto insurance plan. Check with your agent to verify coverage. Also, if you use a credit card for the rental, your benefits may include rental car insurance. Double-check for overseas rentals as coverages do differ.
Keep Your Health Insurance Card Handy
It's prudent to prepare for worst case scenario, so don't leave home without it. Whether you need a walk-in clinic for a fever or are involved in an accident, you'll need your health insurance card. When traveling internationally, you may need a secondary policy so check the details of your plan and what may or may not be covered.
Weather – Know Before You Go
We have all these handy apps, so don't forget to use them!  Look at the long-range forecast. Ask your travel agent and friends and family that are familiar with your destination for tips. Does it get chilly at night? Do I need an umbrella for afternoon downpours?
Security Check
For travel to any countries experiencing an unstable political climate or known safety concerns, check here for any warnings – U.S. Department of State Travel Warnings.