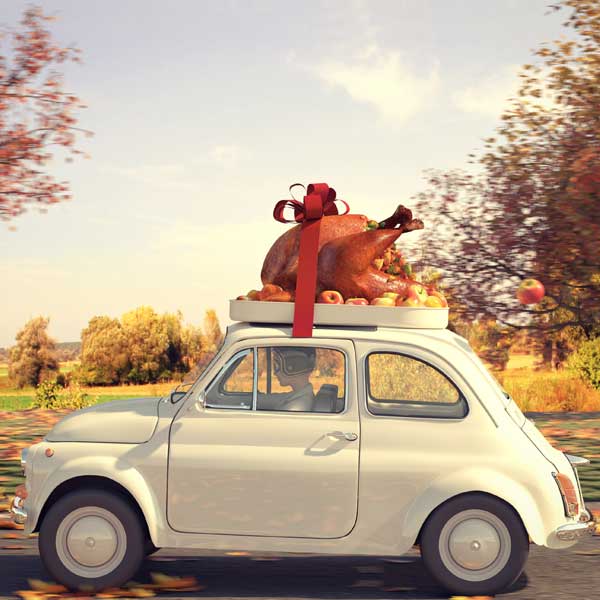 Thanksgiving weekend is one of the year's busiest travel times, but you can make your trip in and out of New York City as seamless as possible. If you're flying this holiday season, you'll be among the more than 1.5 million people expected to travel through the area's major airports, according to the Port Authority of New York and New Jersey.
About 733,200 passengers will use John F. Kennedy International Airport, some 562,400 will use Newark Liberty International Airport and about 368,000 will use LaGuardia Airport, the Port Authority says. So it would be beneficial to allow extra time to get to the airport well before your flight.
Parking spots are still available at SmartPark's JFK and LGA locations, but they are filling up fast.  Even with "special" sales run by the Port Authority's airport lots, SmartPark prices are still lower, and you can earn rewards and free days!
Follow these tips to make your airport experience easy-peasey:
Arrive as early as possible. Get to the airport two hours before a domestic flight or three hours before an international flight.
Confirm flight details with your airline before traveling.
Reserve parking in advance.
Have appropriate identification and your boarding pass ready before you get to the security checkpoint.
The Transportation Security Administration recommends the following to get through the checkpoint easily:
Prepare for new screening procedures – The TSA is implementing new screening procedures which require passengers to remove electronic devices larger than a cell phone from carry-on baggage. The TSA also recommends placing food items in bins for easier screening. Pack your carry-ons accordingly by putting items like electronics, toiletries and food in easily accessible places.
Enroll in a trusted traveler program – Trusted traveler programs like TSA Pre✓® and CLEAR provide passengers an easy alternative to standard screening procedures and speed-up the security screening process. If traveling abroad, consider enrolling in Global Entry or using Mobile Passport to expedite Customs processing upon your return.
Follow the 3-1-1 liquids rule — Any liquids you take on the plane must be in 3.4-ounce containers in a single clear plastic bag. Only one bag per person is allowed.
Take off your shoes — Remember to remove your shoes as required before going through the checkpoint. Shoes have to go through the x-ray machine.
According to the TSA, these are the peak travel times:
Saturday, 6 to 8 am and 1 to 2 pm
Sunday, 6 to 8 am and 4 to 7 pm
Monday, 5 to 8 am and 3 to 6 pm
Tuesday, 6 to 8 am and 3 to 5 pm
Wednesday, 6 to 8 am and 4 to 5 pm
Thursday, 5 to 8 am and 4 to 7 pm
Friday, 5 to 8 am and 3 to 5 pm
Information compiled from various media reports