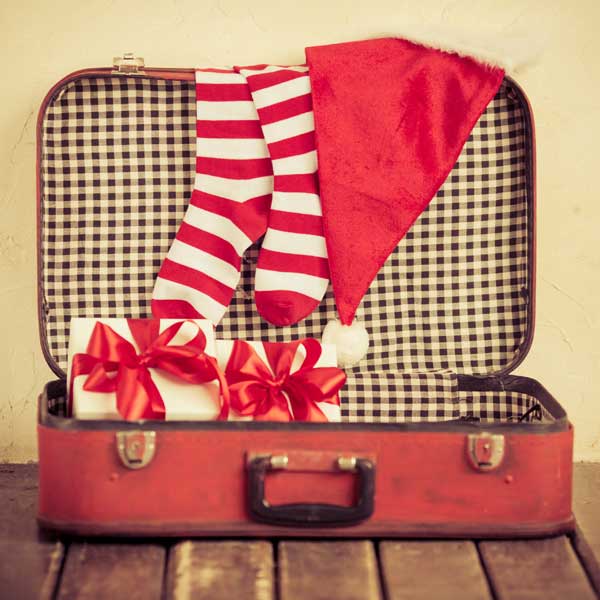 If you are heading over the river and through the woods this holiday season, Santa emailed SmartPark some handy travel tips you should consider. In the New York Metro area, it's more likely over the bridges and through the traffic, but once you reach us the hard part is done!
SmartPark is here to get you to the LGA & JFK terminals stress-free and quickly. We don't need any more Grinches around these parts!
SmartPark JFK & LaGuardia has got you covered with a safe and secure parking space while you are galloping like a reindeer to your holiday fun!  Please book ASAP right here on our site as this is our busiest time of the year!  Don't be left out in the cold!
Now on to Santa's tips!
Research Points of Interest– You paid all that money for flights, so you may as well make it worth your while and build a few extra memories by seeing some touristy sites along the way.
Take Advantage of Tech– Find some useful travel apps and do some research to find those points of interest around your holiday stop. From your hotel to rental car agency to airline, they all have apps that can help make a smoother trip. Download them before you leave home.
Charger– Don't let your phone fade out like a broken Christmas light. Pack those chargers!
Headphones– What better way to drown out the hubbub and inane conversations on the plane? Put on some relaxing festive tunes and take a snooze.
Pack Light– Check the weather and try to pack smartly. Avoid extra bags fees with things you may not need. Plus, you may need to accommodate space for bringing gifts home.
Snacks– Are you or your traveling partner in constant threat of a bout of "hangry-ness?" Keep an extra candy bar or healthy treat in the travel bag. It will be worth avoiding the agony of a cranky travel partner!
Leave Gifts Unwrapped and Ship 'Em– With airline baggage fees these days, it may be advantageous to ship gifts direct to your destination instead of lugging them with you. You can always grab some wrapping paper to dress them up later.
Off-Peak Travel Days– If you can leave a few days earlier or stay a few days more, the rush will be less. You may find cheaper rates too.
Trust (and Laugh at) the Journey– You are bound to encounter some interesting folks along the way and a few bumps in the road (uh, air), but it will make for a great story around the tree. Go with the flow and laugh it off.
Extra Time– Leave early to accommodate for traffic, security lines and to grab a meal before your flight. Again, avoid "hangry-ness!"
Gifts at Airport– Most airports resemble malls these days, so if you forgot a gift or are feeling extra generous, head over to the shops and play Kris Kringle.
Reserve Airport Parking at SmartPark!!!!!!!!!!