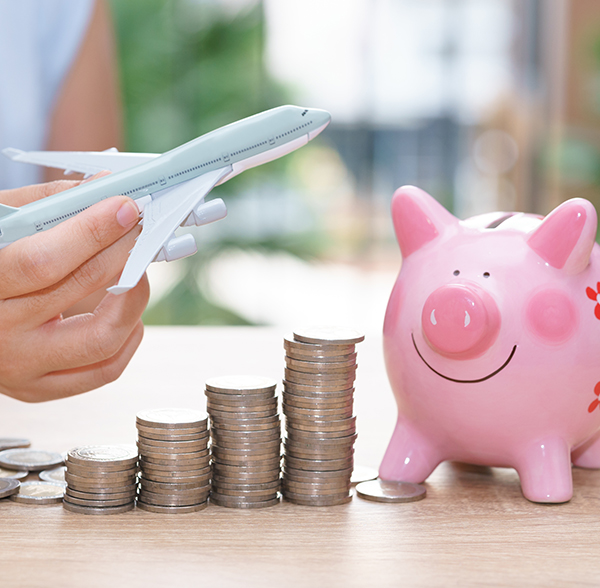 So you want to save some money, huh? Well, fortunately, you made the "Intelligent Choice" for affordable parking rates here at SmartParkParking.com as we offer the most added benefits, free days and reward points! Now, what about the rest of your trip?
Here a few handy tips for booking air travel that we are happy to share!
Shop Early and Often
Fares can jump by over $200 based on the day you buy your ticket. Airlines fares constantly fluctuate – even within the same day. So when it comes to buying an airline ticket, timing is everything. Start scouting out fares as soon as you know the dates of your trip. Then check regularly to get a feel for the best deals. Get that credit card ready to jump on it when you see a price dip, so you're not kicking yourself later.
When is the Right Time?
Being a good planner always keeps you a step ahead, so let's hear it for those folks. To save some serious dough, know when to book. Booking too late or early can boost the cost. Between three weeks and four months in advance is usually the optimal window for the best price.
What's the Cheapest Day to Fly?
Simple supply and demand rules tell us that the day of the week you fly will result in a large swing in your ticket price. The least expensive are usually Tuesdays and Wednesdays, while Friday and Sunday are the most expensive – the rest fall somewhere in the middle.
If you're able to be flexible, play around with some creative planning and tweak the trip a bit. It could leave extra cash for an excursion or spa treatment that wouldn't fit in your original budget.
No Need to Book a Round Trip with One Airline
Some travel websites offer options to depart and return on different airlines – and that could lead to savings. Check the rates on several flights from each of the airlines at your favorite airport. It may also turn out that another airline has more convenient departure or arrival times, or fewer stopovers. Play out your options.
With just a little extra attention and flexibility, you can turn your vacation into a much better (and cheaper!) experience. And you can hold your head high and brag to your friends and family about how much money you saved. But they may already know that since you made the "Intelligent Choice" of parking at SmartPark!